This is my first week participating in Menu Plan Monday. Recipes with an ** by them are new recipes for us. I will be adding more of the recipes and pictures as we have them. =-)
Monday:
Breakfast:

Veggie Pizzas~broccoli, cooked mushrooms, sauteed onions & black olives.
I
use a pre-made crust that I get from Kroger. One day I wil
l tackle my phobia of making bread. No pictures here. My kids got to it before I remembered the camera.

Lunch:

Free for all~my children love making their own choices for lunch.
Dinner:

***Three-Way Sesame Coated Tofu Strips with Spicy Broccoli & brown rice
Snacks:

fruit, **Peanut Butter Chocolate Chip Cookies & popcorn
Tuesday:
Breakfast:

Baked Oatmeal & Smoothies for the kids
Bagels with ***Savory Spread for Mom & Dad
Lunch:

"Chkn" Quesadillas,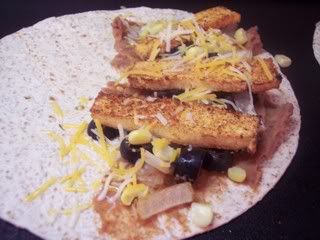 corn on the cob & apple slices
Dinner:

Homemade Mac & Cheese, peas & salad
Snacks:
**Egg-Free Chocolate-Banana Loaf
Baby carrots & ranch dressing
Hummus
Wednesday:
We have to take the van to the shop today so it has to be quick
Breakfast:

Egg Sandwiches
Lunch:

Tuna-Free Sandwiches
carrot & celery with hummus
Dinner:

Eating out or **Crockpot Spinach & Mushroom Lasagna, salad & fresh bread(
made from frozen dough
)
Snacks:

Fruit
Bagel Bites
apple slices & dip
Thursday:
Breakfast:

Tofu Scramble~peppers, mushrooms, spinach
home fries, toast
Lunch:

Veggie Wraps & fruit
Dinner:

Egg Rolls~I use this recipe and just use spring roll wrappers. Pan-Fried Black bean Wontons & Sushi
Snacks:

Rice Crackers or fruit
Cookies(made on Monday)
popcorn
Friday:
Breakfast:

**Whole Wheat Blueberry Muffins, yogurt & cereal
Lunch:

Veggie Calzones mandarin oranges
Dinner:

Grilled Cheese Sandwiches & sweet potato fries
Snacks:

Ants on a log
Mini taco Wontons
Nachos
Saturday:
Breakfast:

**Apple Cinnamon French Toast, veggie bacon, orange juice
Lunch:

Leftovers or possibly Subs
Dinner:

"Chk" faijitas tortilla chips w/ salsa & guacamole
Snacks:

Rice crackers
brownies
homemade pretzels(

dh will make these

)

For many many more wonderful ideas head on over to I'm an Organizing Junkie!