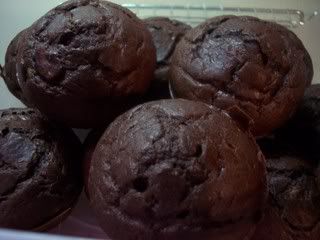 I got this from
Vegetarian Times March 2008.
Makes 1 loaf, 3 mini loaves, or 12 muffins.
Ingredients:
1-1/2 cups all-purpose flour
1/2 cup sugar
1/3 cup unsweetened cocoa powder
1 tsp baking soda
1/4 tsp salt
1 cup low-fat buttermilk
3/4 cup mashed banana
1/4 cup canola oil
2 tsp. vanilla extract
Directions.
1. preheat over to 350º. Coat 9x5 loaf pan, 3 6x3 mini loaf pans or 12-cup tin with cooking spray.
2. Whisk together flour, sugar, cocoa, baking soda, and salt in bowl. Whisk together buttermilk, mashed banana, oil, and vanilla in separate bowl. Fold the buttermilk mixture into the flour mixture.
3. Scoop batter into prepared pan(s). Bake large loaf 50 to 60 minutes, miniloaves 35 to 45 minutes, or muffins 18 to 22 minutes, or until toothpick inserted in the center comes out clean. Cool 5 minutes in pan(s). Unmold, and cool. Drizzle with Chocolate Drizzle of desired.
Chocolate Drizzle
Melt 1oz chopped bittersweet chocolate in a double boiler or in microwave at low(20%) power. Drizzle over cooled loaf or muffin.